Dental Braces
Are your teeth misaligned and are you looking for the best solution?
We offer you effective and state-of-the-art methods of straightening your teeth. One of them is fixed prostheses.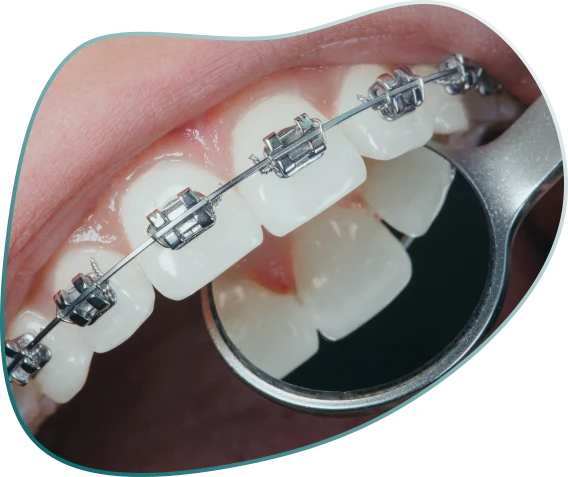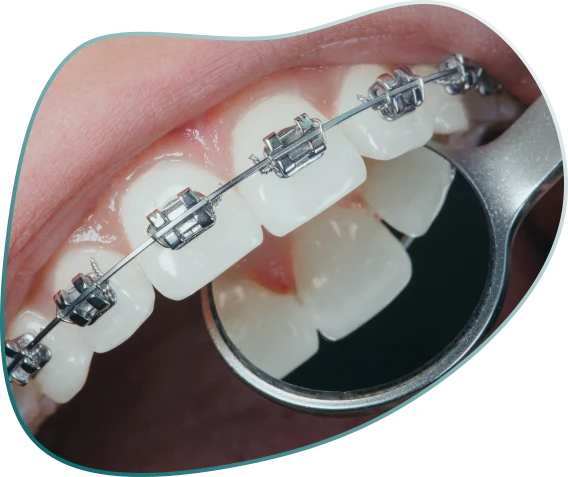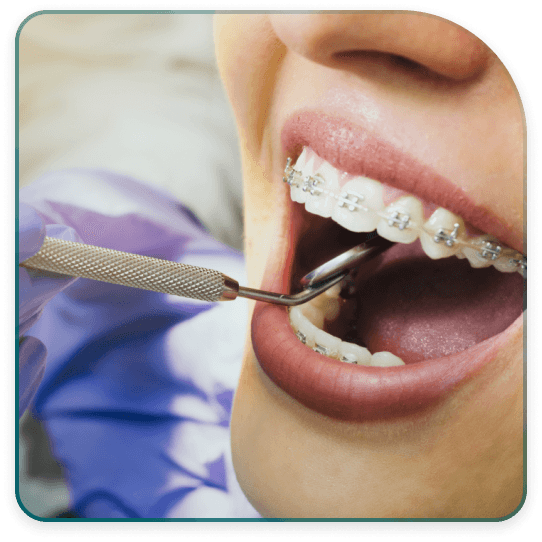 What is a Damon prosthesis and who is it intended for?
A fixed prosthesis is a dental structure for correcting bite anomalies and problems with improper tooth position.

The essence of a fixed prosthesis is the correction of defects that affect the aesthetics of the smile and lead to wear and destruction of tooth enamel and the appearance of caries.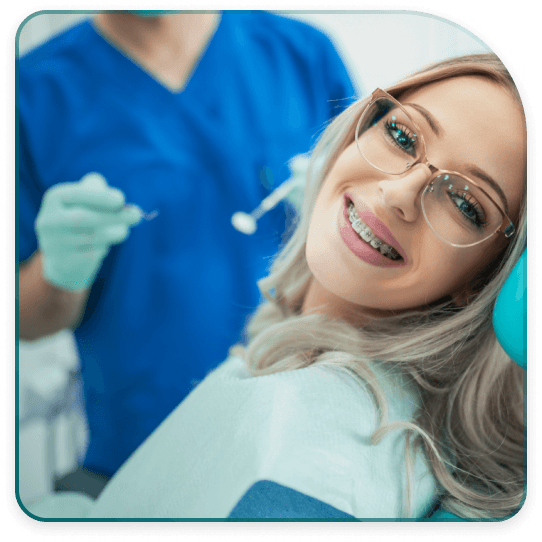 What is a Damon prosthesis and who is it intended for?
The Damon system of prostheses is used in a more complex type of orthodontic therapy, which solves larger anomalies and corrects even the most irregularly arranged teeth. It is intended for patients with extreme irregularities in the arrangement of the teeth.

Unlike a traditional dental prosthesis, the Damon prosthesis does not contain elastic ligatures but self-ligating brackets, and memory wire arches are used to straighten your teeth - which release continuous biological forces. Biological forces are mild but very effective, similar to the forces of the facial muscles, and they effectively restore your teeth to their correct position.

Depending on the various factors present in each individual case, this therapy usually lasts an average of one year and per day, up to a maximum of three years. Arrivals in Belgrade lasting 2 days each are scheduled every 3 months, in order to control the progress and tightening of the prosthesis.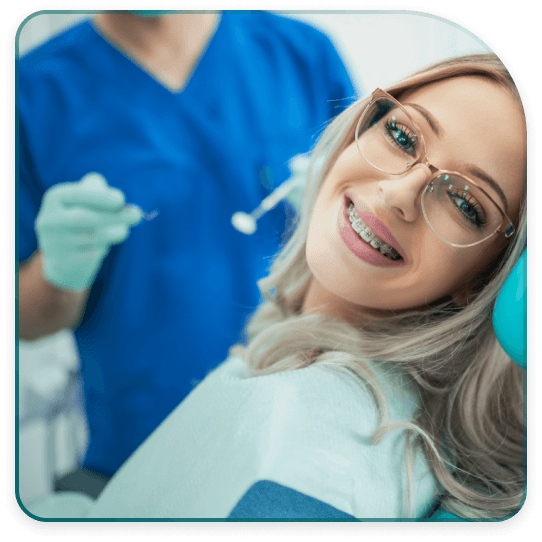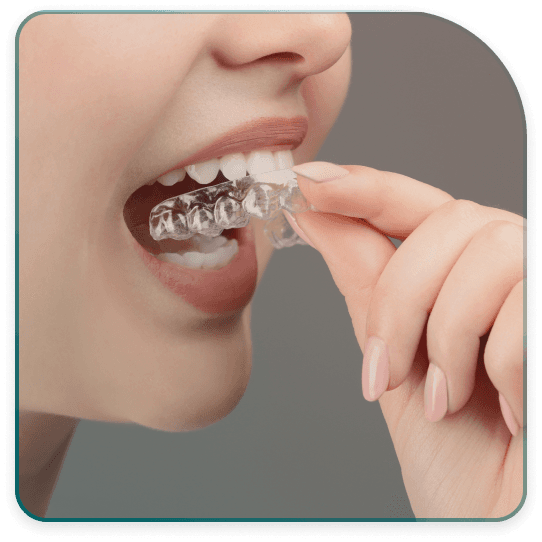 Aesthetic and invisible fixed prostheses
For patients who are ashamed to wear metal orthodontic dental prostheses, there is an alternative - invisible aesthetic dental prostheses.

Ceramic and sapphire fixed prostheses

By structure and principle of operation, these prostheses do not differ from metal prostheses dental prostheses. The difference is only in the material. Ceramic constructions are made of matte or transparent ceramics, sapphire constructions are made of artificially grown crystals. The shade of brackets is chosen individually for each patient according to the color of the enamel. In this way, the effect of transparent dentures is achieved.

Lingual prosthesis

Lingual or internal prosthesis for teeth, an orthodontic system that is fixed on the inside of the teeth. This is the main advantage: due to their location, the locks remain completely invisible.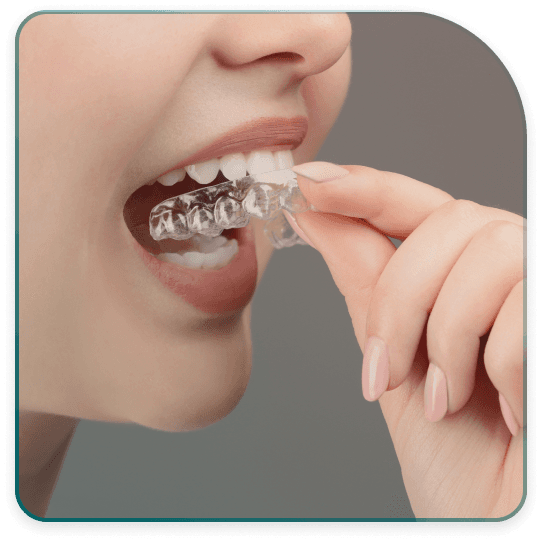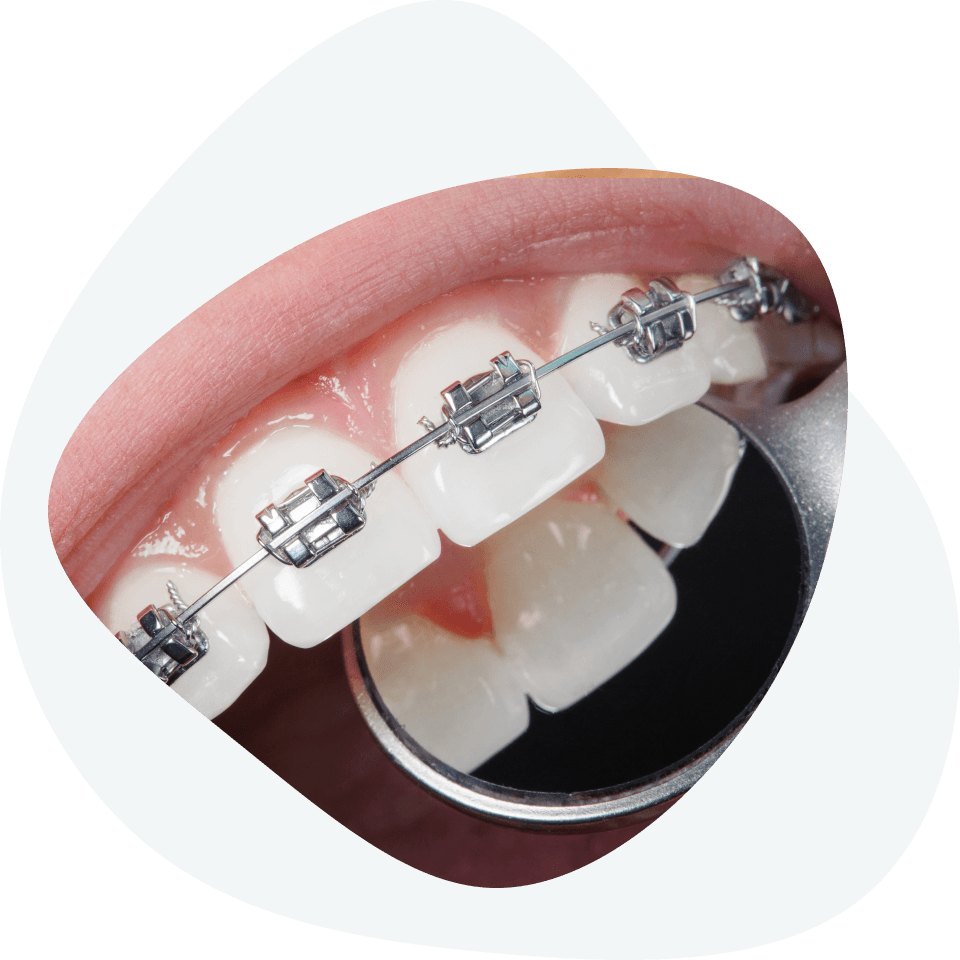 How does a fixed prosthesis work?
Our teeth can change position - by themselves or under the influence of external forces. Thanks to this feature, orthodontic treatment with the help of dentures becomes possible. The working principle of the dental prosthesis is as follows: Based on the patient's clinical picture, the doctor plans the path of movement for each tooth, one carrier is responsible for one dental unit. After the dental prosthesis is made, it is fixed. . In the process of fixing the prosthesis, the brackets are connected to a metal arch or rail. Under the effect of the arch, the teeth begin to take the desired position.

During the treatment, the splint is replaced with a stronger one in order to increase the impact.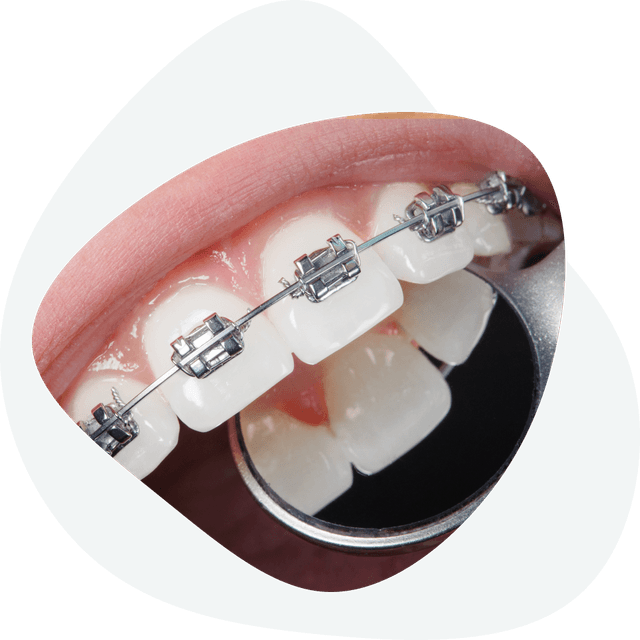 Making of dental braces in three steps
Online Dental Check Up
We offer you the possibility of an online examination and free consultation with our Dr. Bojan, before coming to the procedure. With a few simple steps, you can get an accurate therapy plan with a fixed price and the best individual solution for your needs.
1
Simple appointment scheduling
We value your time, and that's why we're here to provide you with an appointment that best fits your schedule, so you'll be able to come get your unique, Hollywood smile as soon as possible.
2
Arrival in Belgrade
Safe and precise, we enable you to travel to our capital. Every step we have previously agreed upon will be followed in detail, without any unpleasant surprises.
3
Dental Braces - why with us?
We offer you a premium service of top quality, with a significant saving of money - at a price as low as 80%compared to surgeries in other areas Europe!
Dental Braces - Dental Fixtures prices
You are probably wondering how much fixed dentures cost. When it comes to fixed dentures, the price consists of several components, the type of fixed denture, material (metal, ceramic, sapphire), manufacturer. For example, when it comes to damon dentures, the price is somewhat different compared to other dentures.
We offer you an excellent ratio of fixed dentures price and quality, as well as the best dentures. Our policy is transparent pricing, which means you won't encounter any hidden additional costs.
• Serbia

• Austria

€1.700

• Germany

€1.800

• Switzerland

€2.000

• United States

€2.700
• Serbia

• Austria

€1.700

• Germany

€1.800

• Switzerland

€2.000

• United States

€2.700
What do our clients say?
Fiksna Proteza the service currently has a rating 5.0!
 

5

Review
Luka Milivojević
Proteza recenzija
Ne mogu biti srećniji sa svojim protezama od Marco Dental-a. Stomatolozi su bili strpljivi i ljubazni, čineći iskustvo prijatnim i bez stresa. Osmeh mi je sada savršeno usklađen i to sve zahvaljujući njima!
Nataša Marković
Fiksna proteza i Marco Dental
Uporno sam izbegavala protezu, dok mi Marko nije približio sam postupak i objasnio mi sve benefite stavljanja fiksne proteze. I eto nas sada posle nekog vremena kada mogu javno da kažem kako su proteze rađene kod Marco Dental-a savršeno ispravile moje zube! Proces je bio lak, sve zahvaljujući njihovom stručnom timu. Toplo preporučujem svima!
Jana Cvejanović
Fiksna Proteza: Moje Iskustvo
Hvala Marco Dentalu na profesionalnoj ugradnji moje fiksne proteze. Prezadovoljan sam rezultatom. Izvanredno iskustvo u Marco Dentalu! Oduševljen sam kvalitetom ugradnje proteze.
Jalka1
Kvalitetne stomatološke usluge
Marco Dental mi je pružio fantastično iskustvo ugradnje fiksne proteze. Preporučio bih svima.
Labat Stefan
Ugradnja proteze Recenzija
Ugradnja proteze u Marco Dentalu bila je odlična! Osećao sam se sigurno u rukama stručnjaka.
Leave a review
The most frequently asked questions about dental braces
What to pay attention to when choosing a prosthesis?
If it is necessary to place prostheses for medical or aesthetic reasons, then the choice of a certain type should be approached responsibly, focusing not only on the price of the upper fixed prosthesis or the price of the lower fixed prosthesis, but also on the living and working conditions: the design should not cause discomfort in life and communication with people.
What types of dentures are there?
According to the place where the prosthesis is fixed, there are internal and external prostheses for straightening teeth.
According to the material from which they are made: metal, plastic, ceramic, sapphire.
Fixed or mobile prosthesis?
Mobile prostheses are mainly used for minor defects, while fixed prostheses can solve more serious problems.
Am I a candidate for a fixed dental braces or prosthesis?
If you are not satisfied with your smile, have unevenly spaced teeth, a gap you don't like or an irregular bite - fixed dentures are the right solution for you.
Can I put a fixed braces without tooth extraction?
Tooth extraction is not a mandatory part of the therapy. Already after the first examination with us, you will know whether it is necessary in your case.
Become one of our many
satisfied patients!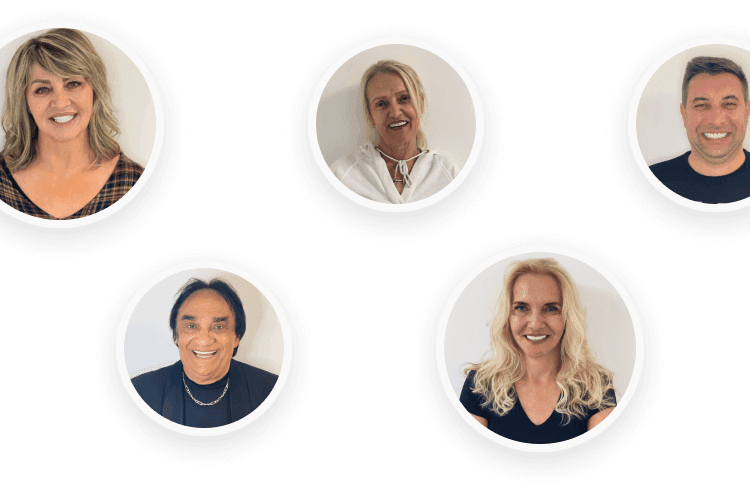 Say yes, and trust us - you won't regret it.
Contact us and Marko will contact you as soon as possible!
Contact Us
+381 61 6589540
+381 61 6589540