Covers for teeth - crowns for teeth
The crown is the part of the tooth that rises above the gums. If the mother crown is destroyed, then it is quite possible to restore it - to make a cover for the teeth from strong replacement materials. Such covers can be attached to the base of one's own tooth or to artificial roots - implants. Find out everything you need to know about crowns below!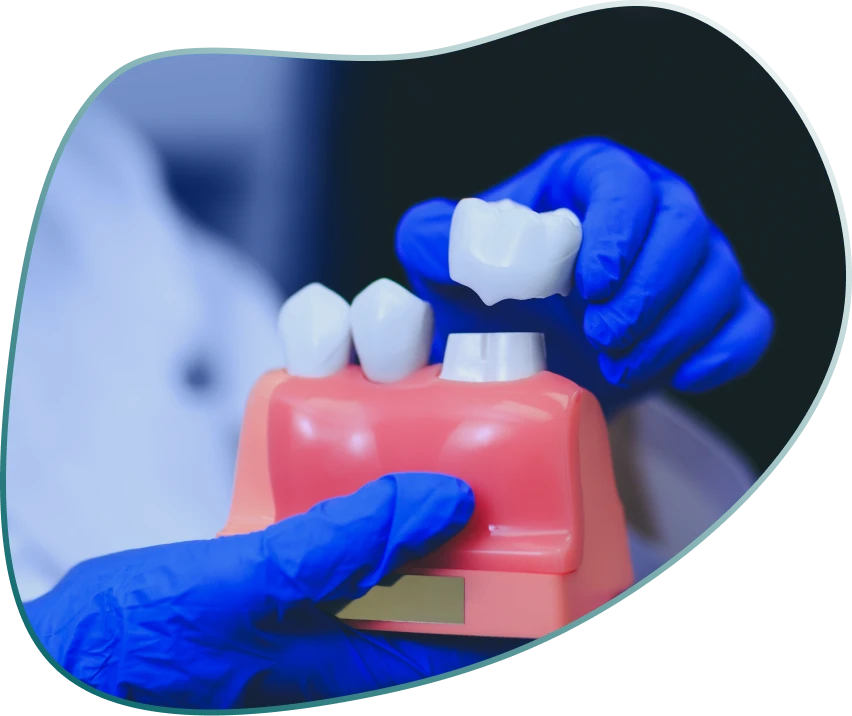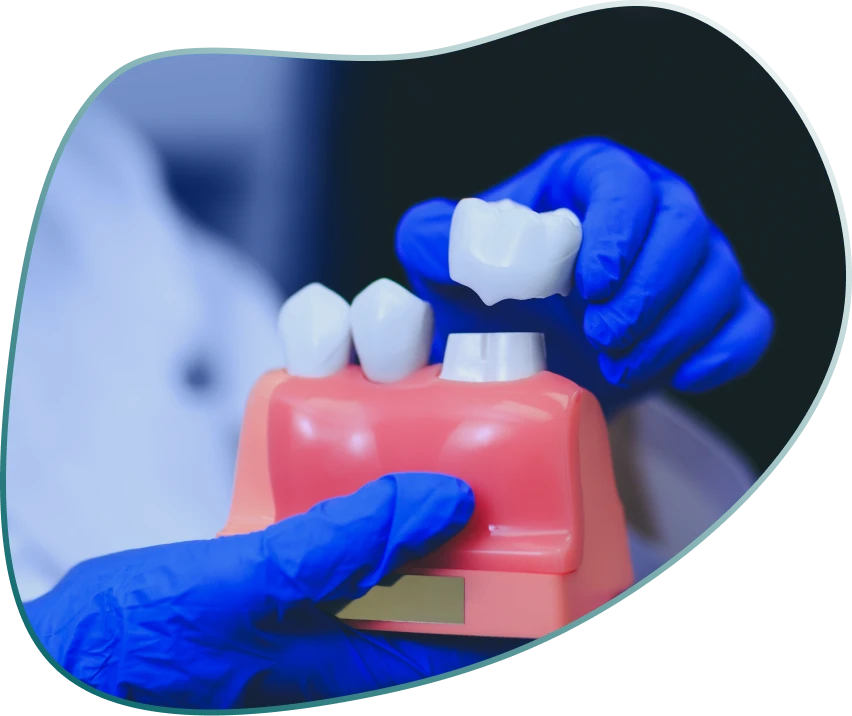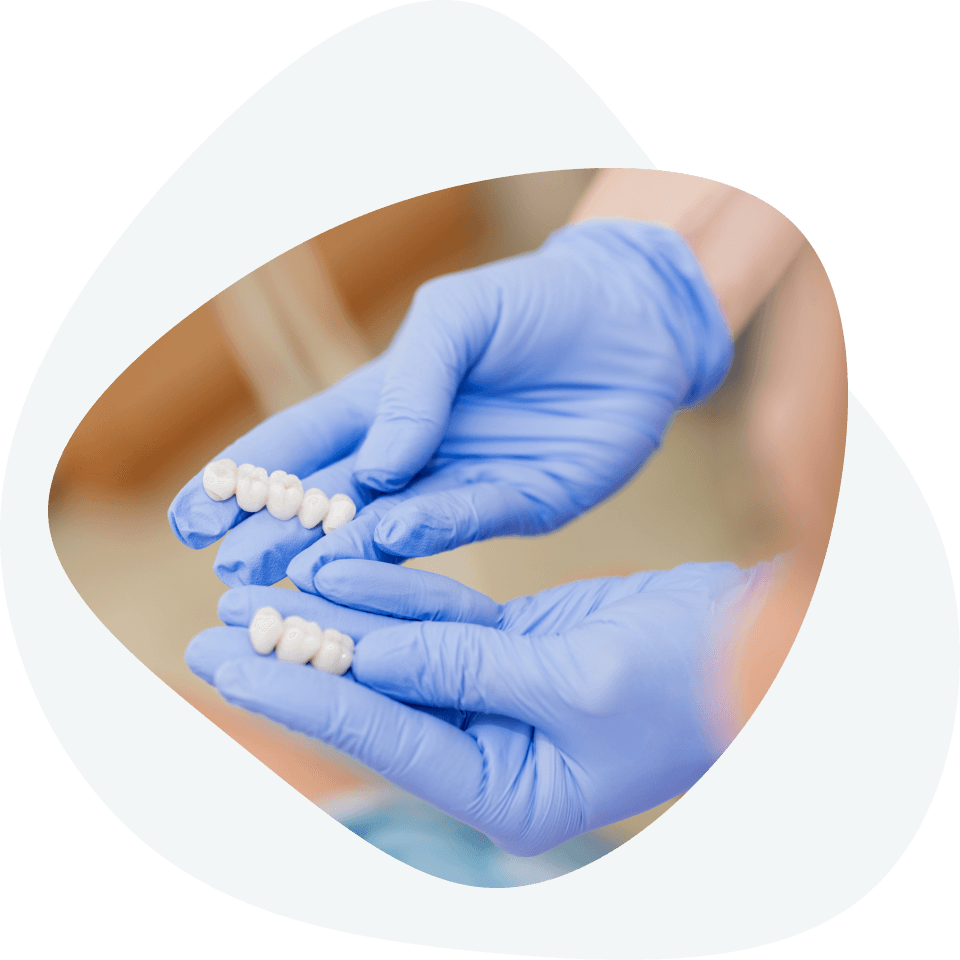 What is a crown on a tooth?
Dental crowns are a revolutionary invention in the world of dentistry! The crown represents, that is, replaces the outer part of the tooth, the one that is visible and that we chew with. If the tooth breaks or wears out, but its root remains healthy - the crown is placed on the healthy root of the tooth. In case the root has to be extracted, or the patient is toothless - dental implant is placed first, and then a rosary on him.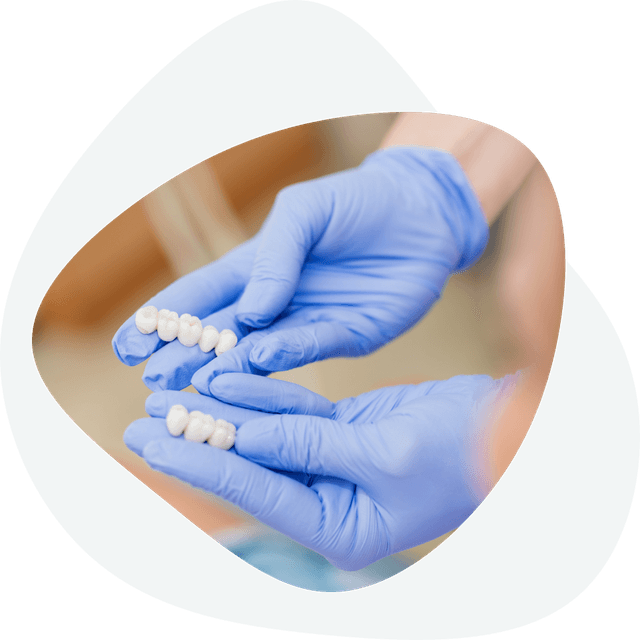 Types of dental covers
Covers are divided according to the type of material they are made of. We divide them into
ceramic and zircon-ceramic crowns.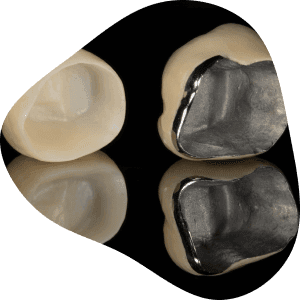 Ceramic Crowns
Ceramic crowns or metal-ceramic dental crowns contain a titanium structure over which the ceramic comes. We use them most often in implantology works.
Learn more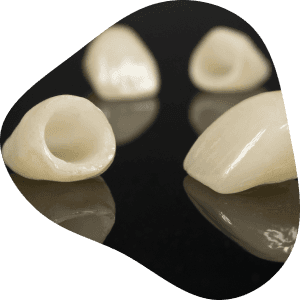 Zircon-Ceramic Crowns
Zircon-Ceramic crowns or metal-free dental crowns are made entirely of ceramics. They provide the most natural look and we usually place them directly on your tooth.
Learn more
Dental Veneers - why with us?
We offer you a premium service of top quality, with a significant saving of money - at a price as low as 80%compared to surgeries in other areas Europe!
Dental crowns: What you need to know about the installation procedure and prices
When it comes to cosmetic dentistry, one of the options that many patients consider is dental crowns or crowns. Crowns are thin tiles made of porcelain or ceramic that are added over the patients teeth to improve the appearance of the teeth. They are used to correct various dental problems, such as damage, unevenness, discoloration or even missing teeth.
Types of dental crowns or crowns:
There are several different types of crowns, including porcelain crowns, ceramic crowns, and gold crowns.
Porcelain crowns

Metal-ceramic crowns

Zircon-ceramic crowns

Metalless Crowns

Metalless Crowns

Zirconium Crowns
The crown installation procedure requires two to three visits to the dentist. The first visit is reserved for tooth preparation and preparation for the crown, the second for the fabrication of the crown and the third for the installation of the crown.
Prices for crowns vary, depending on the type of crown and where the procedure is performed.On average, the price for one crown ranges from €200 to €1,150. However, the price can vary more depending on the location and clinic where the procedure is performed, as well as how many teeth need to be repaired.
Is it possible to whiten the tooth crown?
Dental crowns and teeth whitening
One of the questions that patients often ask us is whether dental crowns can be whitened? - The answer is no. Considering that whitening of tooth crowns is not possible, if you want white teeth and you need crowns, choose the lightest color of crowns in order to have the whitest teeth.
In case you have a need for teeth whitening, it is best to consult with your dentist in order to choose the best therapy to repair the aesthetic appearance and for more beautiful natural teeth.
Teeth whitening with crowns
Teeth whitening with crowns is not possible. In case the patient needs a different tooth color, it is best to do a complete replacement of the tooth cover for a more suitable tooth color.
Maintenance of dental crowns
Dental crowns are a popular dental repair option, used to correct a variety of dental problems such as decay, misalignment , discoloration or even missing teeth. However, in order for dental covers to be as effective and long-lasting as possible, they need to be properly maintained.
Here are the top ten tips for maintaining a dental crown:
Visit the dentist regularly: Visit the dentist regularly to check the condition of the crown and teeth. The dentist will be able to detect any problems with the cover and fix them in time.
Maintain good oral hygiene: Brush, floss and rinse your mouth regularly to prevent plaque and tartar build-up under the cover.
Avoid coarse foods: Avoid coarse foods, such as nuts, peanuts or bones, to prevent damage to the cover.
Avoid chewing inappropriate things: Avoid chewing inappropriate things, such as pencils, coins or stones, to prevent damage to the cover.
Avoid smoking and drinking dark drinks: Smoking and drinking dark drinks, such as coffee and wine, can change the color of the cover, so it is important to avoid these habits.
Use recommended oral hygiene products: Use oral hygiene products recommended by your dentist to prevent damage to the cover.
Do not use abrasive toothpastes: Abrasive toothpastes they can damage the covers, so they should not be used.
Provide adequate protection for the covers when doing sports: If you play sports, wear protective equipment that will protect the covers from impacts or injuries.
Be careful when using bottles with liquids in hot temperatures:Bottles of liquids at hot temperatures can damage the covers, so they should be used with caution.
If you have any questions or concerns about your covers or if you have questions with a specific model your dental crowns, contact your dentist - Doctor Bojan Perduv from the Marco Dental Tourism dental practice is here for you.
Your teeth are important
Whether you have placed temporary covers or permanent dental covers, metal-free crowns, dental crowns, zirconium crowns or metal-ceramic crowns, the health of your teeth is important so that treatment would not be necessary before installing the crown itself. In case the tooth under the crown breaks, there are a couple of solutions where Marco Dental Tourism can certainly help you.
Dental covers - prices
What affects how much a dental crown costs?

Even for crowns made of the same material, produced using the same technology, prices can vary significantly.Due to the fact that the following factors are taken into account when forming the price of a dental crown:

Pricing policy of a particular clinic. So, for example, in some dentistry, the price of a dental cover can be up to 3000 euros;

Experience, level of qualification of the doctor who will carry out the treatment;

The job of a dental technician who is directly involved in making crowns. Here we can also mention the technology of making dental crowns, the costs of materials for the production of dental covers; medical facility equipment.

One thing is certain, in our clinic you will get all that; top quality and expertise with a price up to 80% lower than other clinics in the world.
Covers for teeth price
• Serbia

• Austria

€580

• Germany

€650

• Switzerland

€1.100

• United States

€1.150
• Serbia

• Austria

€580

• Germany

€650

• Switzerland

€1.100

• United States

€1.150
Am I a candidate for Crowns?
If you have healthy teeth, but you are not satisfied with their appearance or color, or one of them is chipped and irregular
You are a candidate for this type of therapy
Free Online Check-up
If you are missing one or more teeth and want to improve your smile
You are a candidate for this type of therapy  
Free Online Check-up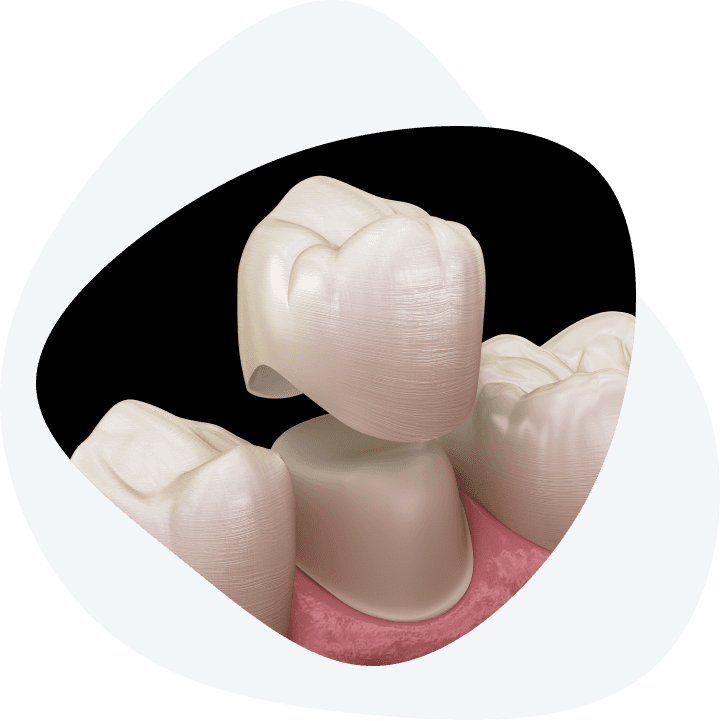 What does the process of placing dental crowns on a healthy tooth look like?
In agreement with the dentist, the patient decides on the shape, color and size of the future crown. Then an impression of the jaw is taken, the worn teeth are ground, and temporary crowns are placed on them until the dentists make the permanent ones. After making the permanent crowns, temporary ones are removed and permanent crowns are placed - which can last, depending on personal dental care, for several decades.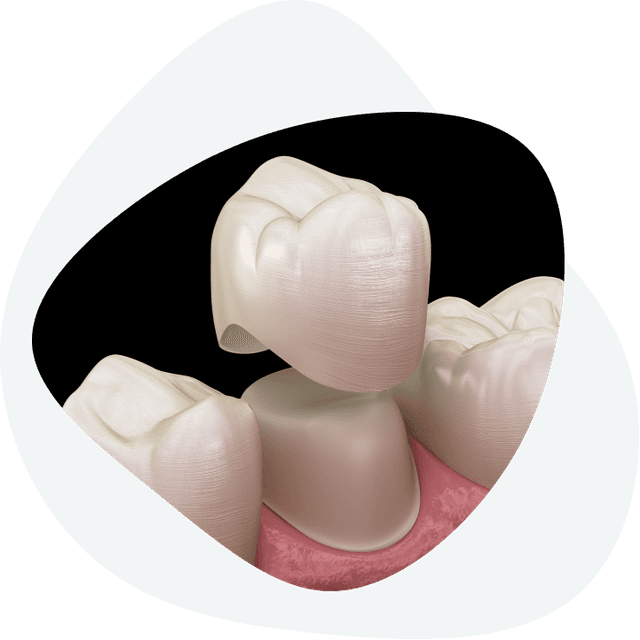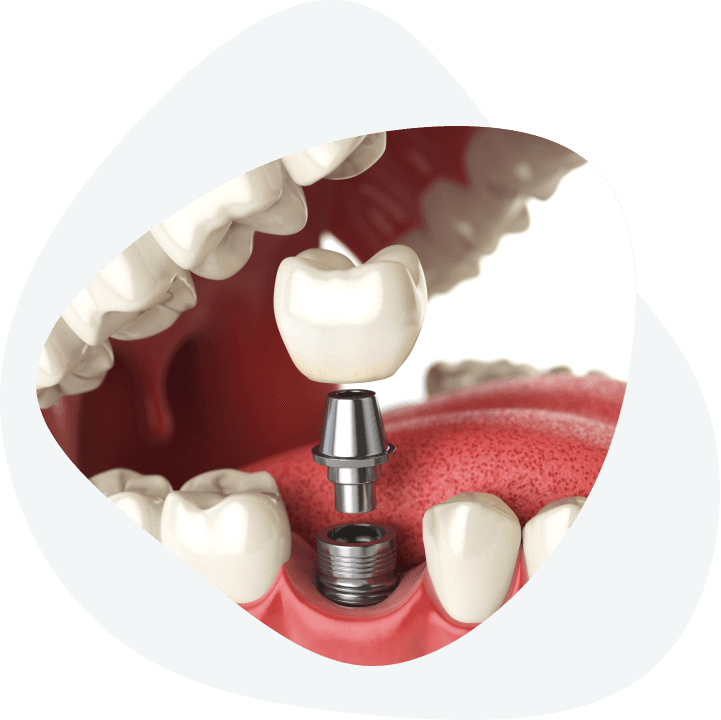 The process of placing crowns on a dental implant
The process of placing crowns on an implant is the same as when placing it on a healthy tooth. However, the difference is that instead of grinding the teeth, an implant is installed - which will be the basis for the crown. Implant, i.e. a screw, is implanted by our dentists after an agreement with you and preparation of an individual therapy plan. After installing the implant, temporary crowns are placed on it, which are removed after the healing of the implant (which usually takes several months), and then permanent crowns are placed instead. Before making permanent crowns, the patient agrees with the dentist about their appearance - color, size, length and shape.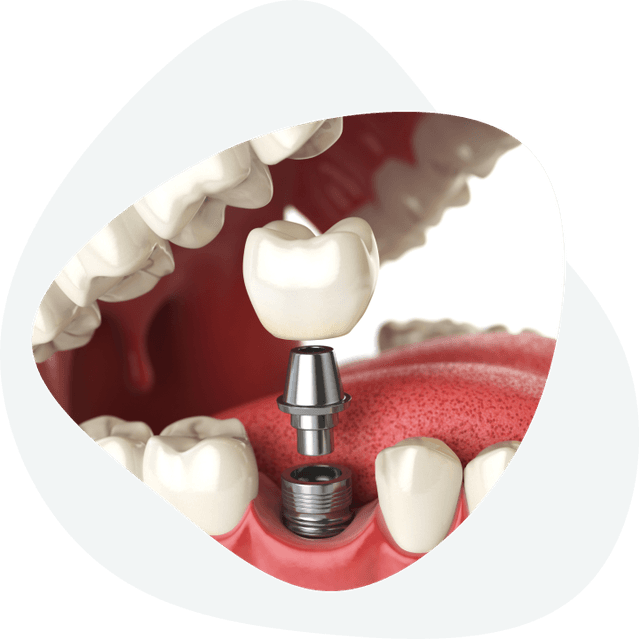 What do our clients say?
Krunice the service currently has a rating 5.0!
 

22

Review
Sandra Rakić
Krunice su mi vratile samopouzdanje
Fasete tj. krunice koje sam imala prilike da uradim u Marco Dental-u su fantastične. Prezadovoljna sam koliko prirodno izgledaju. Nakon druge trudnoće, zubi su mi jako brzo propali i morala sam da rešim i odradim krunice! Toliko su mi vratili samopouzdanje i hvala im na tome!
Žarko Simović
Krunice i moje iskustvo
Uradio sam krunice u Marco Dental-u i malo je reći da su vrhunske! Uz sav profesionalni tretman, dobio sam i besprekoran osmeh prirodnog izgleda. Ceo tim je bio podrška tokom celog procesa, i to je ono zbog čega ih svima preporučujem! Ne samo da se vidi kvalitet, već je i osoblje predivno! Svaka čast!
Marijan Marković
Odlična cena i kvalitet
Cena krunice po zubu u Marco Dental Tourism zubarskoj ordinaciji je odlična. 200 eura po krunici je cena koja je više nego priuštiva za ovakav kvalitet rada.
Garry Webb
Dental Veneers: Absolutely stunning
I've visited Marco Dental Tourism for the first time and I need to say that this dental clinic is first-class. Their care for patients is at an utmost brilliant level. I'd recommend everyone to get their teeth done at this place!! 5/5 STARS!
Stefan Jović
Recenzija: Navlake za zube
Moj utisak na uslugu navlaka za zube u Marco Dental Hollywood Smile ordinaciji je bio 10/10 po kvalitetu! Imaju sjajne zubare i osoblje koje je veoma ljubazno i učtivo. Preporučujem Doktora Bojana svakome, jer imati takvog profesionalca da vam radi stomatološke usluge je stvarno neverovatno iskustvo! Hvala!
Vladimir Bolić
Recenzija: navlake za zube bez brusenja
Voleo bih da pohvalim Marco Dental Tourism za sjajnu uslugu i sjajan kvalitet materijala. Nisu mi brusili zube, i bezbolno su mi postavili navlake na zube.
Rasim Salih Mehmedović

Review: Navlake za Zube u Beogradu
Nakon što sam dugo godina izbegavao da se osmehnem zbog nepravilnosti i zute boje zuba, odlučio sam da istražim opcije za poboljšanje svog osmeha. Otkrio sam stranicu koja je pružila sve informacije koje su mi bile potrebne o Navlakama za zube. Nakon što sam pročitao detaljne informacije, odlučio sam da se odlučim za ovu stomatološku proceduru. Sada imam samopouzdanje da se osmehnem na fotografijama i u društvu. Preporučujem svima koji žele da poprave izgled svog osmeha da posete ovu stranicu kako bi dobili sve potrebne informacije.
Teodora Mišković
Iskrena recenzija za Navlake za Zube kod Marco Dental Tourism
Uvek sam se stidela svog osmeha zbog zuba koji su bili nepravilni i sa diskoloracijom. Nakon malo istraživanja, otkrila sam stranicu koja je pružila detaljne informacije o Navlakama za zube. Zahvaljujući tim informacijama, odlučila sam da zakažem konsultaciju sa stomatologom. Nakon konsultacije, odlučila sam da se odlučim za ovu stomatološku proceduru. Sada imam savršen osmeh i osećam se samouvereno u svojoj koži. Hvala stranici što mi je pružila sve informacije koje su mi bile potrebne da donesem pravu odluku.
Janko Ristić
Navlake za zube Recenzija - review
Recenzija: Navlake za zube - Marco Dental Tourism mi je ugradio perfektne navlake za zube i sada mi je osmeh bolji nego ikad. Na jedan od zuba je bilo potrebno staviti krunicu, a na ostale navlaku. Rad koji su pružili je savršen, I Doktor Bojan Perduv je neprikosnoven profesionalac. Hvala! Ocena 5/5!
Djurdja S.
Navlake za zube cena
Cena navlake za zube u Marco Dental Tourism Beograd je vrlo pristupacna u odnosu na cenu u Luganu. Stomatoloski tim je vrlo ljubazan i usluzan i tretman ugradnje je bio savrsen. Sve pohvale za Marka i ceo tim!
Darkoo
Najbolja cena za navlake za zube
Kada sam poslao upit za besplatan pregled i upit za navlake za zube i cenu, dobio sam jasne odgovore. Marco Dental Tourism definitivno nudi najjeftinije navlake za zube. Ne samo sto su najjeftiniji nego i kvalitet rada je bolji od bilo koje stomatoloske ordinacije u kojoj sam bio.
Mitar Janković
navlake za zube bez brušenja
Tretman implementacije navlake za zube bez brušenja u ovoj stomatološkoj ordinaciji je bilo savršeno. Luminiri i navlake su izuzetnog kvaliteta. Dobio sam sertifikat koji pokazuje gde su nabavljeni, rok trajanja i garanciju. Marco Dental Tourism je najbolja stomatološka ordinacija u Beogradu.
Esma S.
A1 Bleach Navlake za Zube
Moj utisak nakon tretmana je odličan. Stomatološka protetika je najboljeg kvaliteta. Marco Dental Tourism pruža najbolje zubarske usluge u Beogradu. Ovim putem bi volela da pohvalim mladu ekipu stomatologa, Bojana Perduva i ostale.
Viktor T
Krunica za zube Iskustvo Pacijenata
Nakon ugradnje krunica za zube prezadovoljan sam. Bilo da izaberete navlake za zube cena istih neće biti problem jer Marco Dental Tourism nudi najbolje cene krunice i navlaka za zube u Srbiji i Evropi. Vrste cena procedura zavise od vaših problema, kod mene nije bio strašan problem pa su standardne porcelanske krunice rešile estetski izgled mojih zuba. Veliko Hvala ekipi stomatologa.
Amelie Zay
Procedura ugradnje krunice
Definitivno najbolja cena procedura trajanje. Procedura ugradnje krunice sa Doktorom Bojanom Perduvom je bila besprekorna. Ova procedura cena nega posle nje su najbolje u Srbiji. Hvala Doktore i Marco Dental Tourism.
Ljubomir Momčilović - Beograd
Fasete za zube - Prelep rezultat
Razmišljao sam o fasetama za zube kao opciji za popravak izgleda svojih zuba. Iskustvo sa porcelanskim zubima cena i trajanje su bili odlični, a rezultat je bio prelep. Navlake za zube bez brusenja koje su postavili Doktor Bojan Perduv su bile bezbolne i jednostavne za ugradnju. Preporučujem svakome da razmisli o ovom opciji za popravak izgleda svojih zuba. Hvala Marco Dental Tourism i Doktoru Bojanu Perduvu.
Jasna Jovanović Nikolić
Recenzija i iskustvo nakon beljenje krunice zuba
Kao žena, izgled mojih zuba mi je veoma važan. Kada sam se suočila sa potrebom da zamenim krunicu, odlučila sam da isprobam beljenje krunice zuba kako bih dobila jednoličan izgled zuba. Iskustvo sa Marco Dental Tourism je bilo izuzetno. Cene procedura su bile pristupačne, a beljenje krunice zuba je dalo odličan rezultat. Preporučujem svima da razmisle o ovom opciji kada razmišljaju o zameni krune.
Boban_Stojisavljević
Krunice ili fasete: Šta je bolje za moje zubima?
Razmišljao sam o tome da li da se opredelim za krunice ili fasete za moj zub. Nakon što sam se posavetovao sa stomatologom i pročitao o razlikama između tih opcija, odlučio sam se za krunice. Cene procedura su bile pristupačne, a trajanje krunica za zub je dugotrajno. Beljenje krunice zuba je bio bonus koji sam cenio. Preporučujem svakome da se posavetuje sa stomatologom pre nego što donese odluku. Dr Bojan Perduv je pomogao u mojoj odluci, hvala. Pozdrav Boban.
Vladimir Babić
Bezmetalne krunice cena - Najbolja opcija za svakoga
Nakon što sam potražio alternativu za moje krune od metala, odlučio sam da isprobam bezmetalne krunice. Bio sam oduševljen cenom procedura i trajanjem krunica. Beljenje krunice zuba je bio bonus koji sam najviše cenio. Iskustvo ugradnje krunice je bilo neboleče i brzo. Preporučujem svakome da razmisli o ovom opciji umesto tradicionalnih krunica od metala. Veliko hvala za Marco Dental Turizam i Dr Bojan Perduva.
Rasta
Sjajan Rad
Proces postavljanja krunice bio je brz i gotovo bezbolan, zahvaljujući visoko obučenim i iskusnim stručnjacima u Marco Dental Tourism. Izuzetno sam zadovoljan konačnim rezultatom i toplo preporučujem ovu odličnu stomatološku ordinaciju u Beogradu svima kojima je potrebna vrhunska stomatološka nega.
Mio9
Hvala Bojane i Marco
Ako vam je potrebna ugradnja krunice, ne tražite dalje od Marco Dental Tourism. Kao najbolja stomatološka ordinacija u Beogradu, zaista pružaju izuzetnu uslugu. Tim je obrazovan, profesionalan i saosećajan, čineći ceo proces bez stresa i prijatnim. Sama klinika je besprekorna i opremljena najsavremenijom tehnologijom. Oduševljen sam svojim novim krunama i ne mogu dovoljno da zahvalim Marco Dental Tourism za njihov odličan rad.
Adam Jović
Jeftino, Brzo, Efikasno
Moja nedavna instalacija krunica u Marco Dental Tourism bila je zaista fantastično iskustvo. Od inicijalnih konsultacija do konačnog rezultata, tim ove vrhunske stomatološke klinike u Beogradu nadmašio je moja očekivanja. Osoblje je ljubazno, susretljivo i očigledno strastveno prema svom poslu. Sama procedura je protekla glatko i efikasno, zahvaljujući naprednoj tehnologiji i stručnosti tima. Izuzetno sam zadovoljan svojim novim krunama i toplo preporučujem Marco Dental Tourism za sve vaše stomatološke potrebe.
Leave a review
Dental crowns - frequently asked questions
What is a dental crown?
A dental crown is a replacement for the visible part of the tooth.
What material are the crowns that you install made of?
The crowns we use are made of ceramics and zircon ceramics.
How long do dental crowns last?
With proper maintenance, dental crowns can last over 20 years.
What is the price of the dental crown?
The price of ceramic crowns is €200, and zircon ceramic crowns is €250 per crown.
How do you determine the color of dental crowns?
We determine it according to your wishes or adjacent, healthy teeth.
Where do you get the materials?
The ceramics we use are imported exclusively from Germany and Switzerland.
Does the process of placing dental covers hurt?
Placing crowns is a 100% painless and safe procedure performed under local anesthesia.
Does it hurt to remove dental crowns?
The removal, as well as the placement of the crowns, is a completely painless process. You may feel a slight discomfort, but the smile you will get after the treatment will overshadow it.
What happens if the tooth under the crown hurts?
There is a solution - we treat it through a crown or surgically.
0
Not sure if you are the ideal patient for
crowns or have other questions?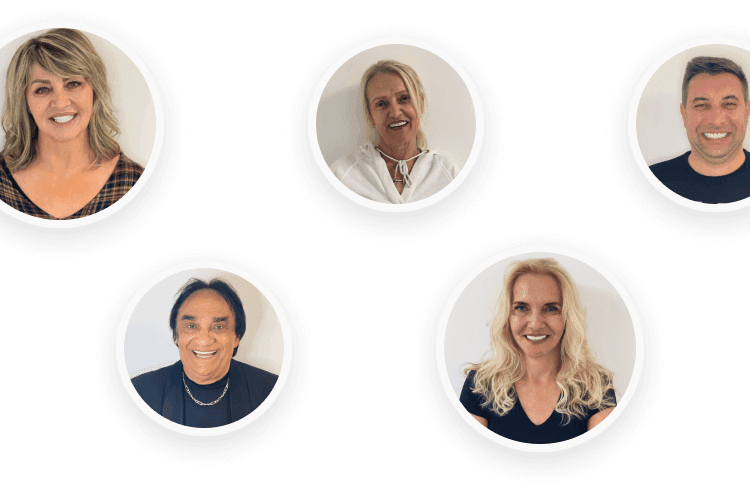 Contact us and Marko will contact you as soon as possible!
Contact Us
+381 61 6589540
+381 61 6589540