Metal-free crowns
The crown is the visible part of the tooth above the gum line. It can be of different shape, size and color depending on the individual anatomical structure.

Not only the beauty of the smile, self-confidence, but also the ability to chew food depends on the condition of the crown of the teeth.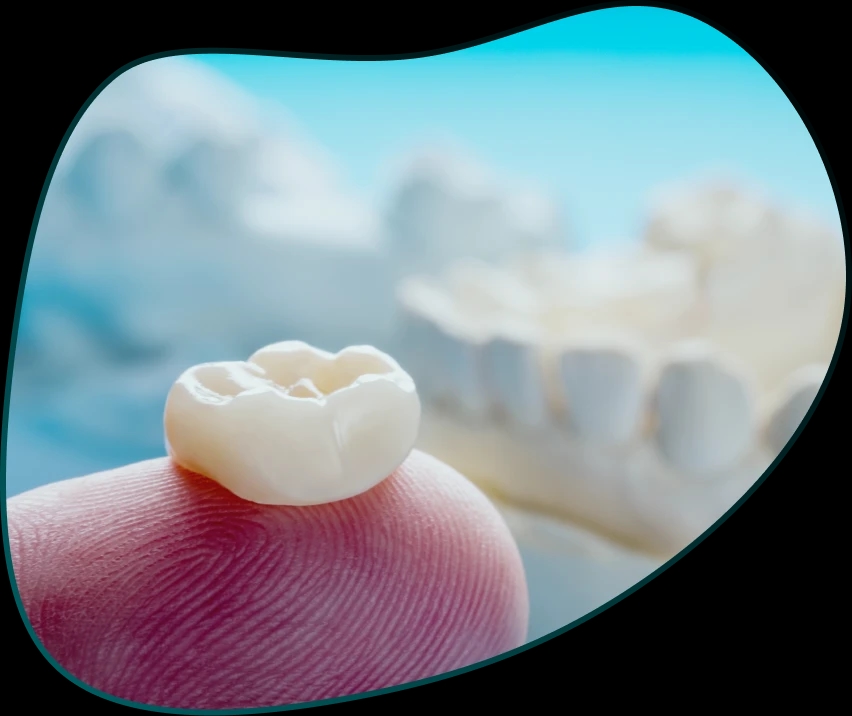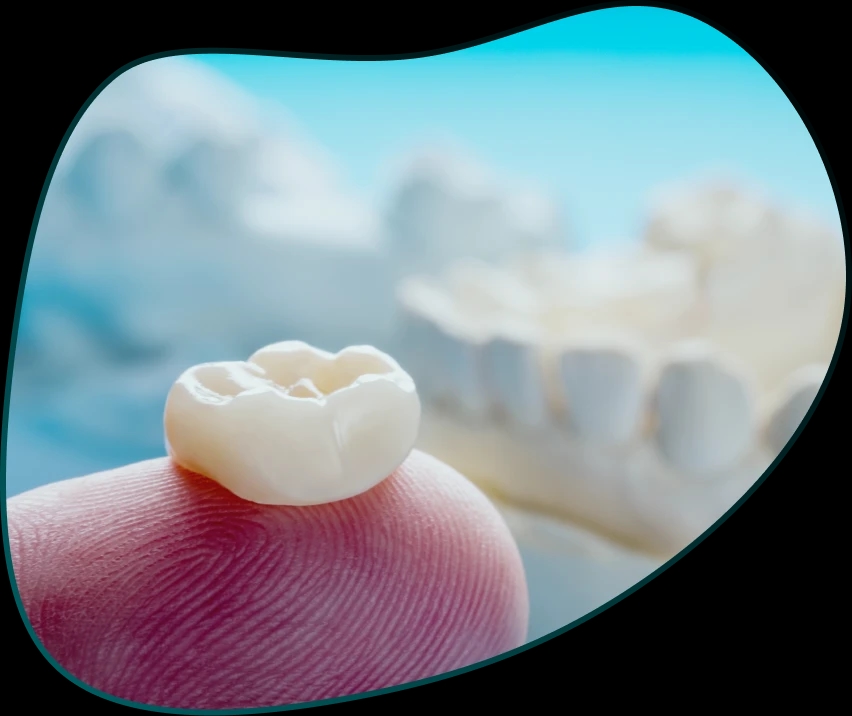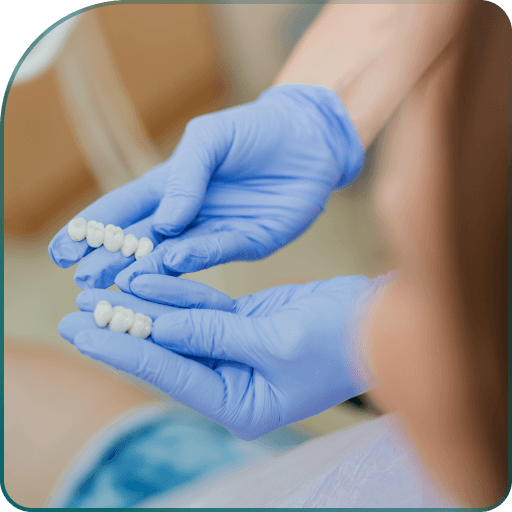 What are metal-free - zirconium crowns?
Today, metal-free zirconium crowns are the best option you can choose for your teeth. Zirconium crowns are characterized by reliability, durability and excellent external characteristics. Zirconium ceramics successfully combine "steel" strength and natural appearance. At the same time, metal-free crowns are comfortable and safe to wear, do not cause allergies and have no contraindications.
In addition, metal-free crowns can be installed on any dental unit - first of all, on molars and premolars. The design is also suitable for fixing bridges of 2-3 teeth. The working life, with proper hygiene, can be very long.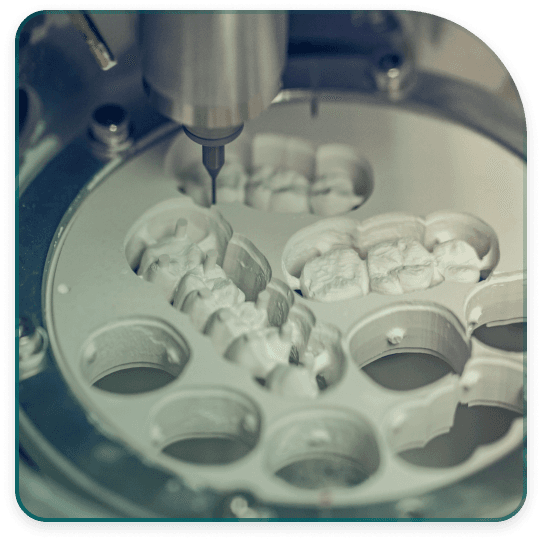 What materials are zirconium crowns made of?
The mineral zircon is the main raw material for the production of dental zirconia. In order to obtain the necessary characteristics of the final material, agglomeration additives and auxiliary materials of the best quality are added to it. They affect the characteristics (strength, biocompatibility, thermal conductivity, etc.) of the finished material. Auxiliary substances promote shaping and are removed from the material during agglomeration.

From a constructive point of view, zirconium crowns have an important feature. They have a strong inner frame made of zirconium dioxide, on which several layers of ceramic mass are applied. Ceramics play the role of cladding and provide ideal aesthetic qualities, and the frame increases the product's resistance to mechanical damage.

Zirconium oxide has a certain degree of transparency, so that ceramic teeth are indistinguishable from natural ones even with sub-ultraviolet light.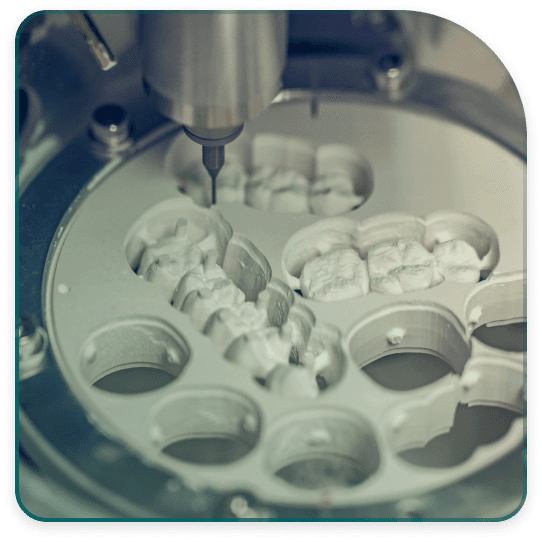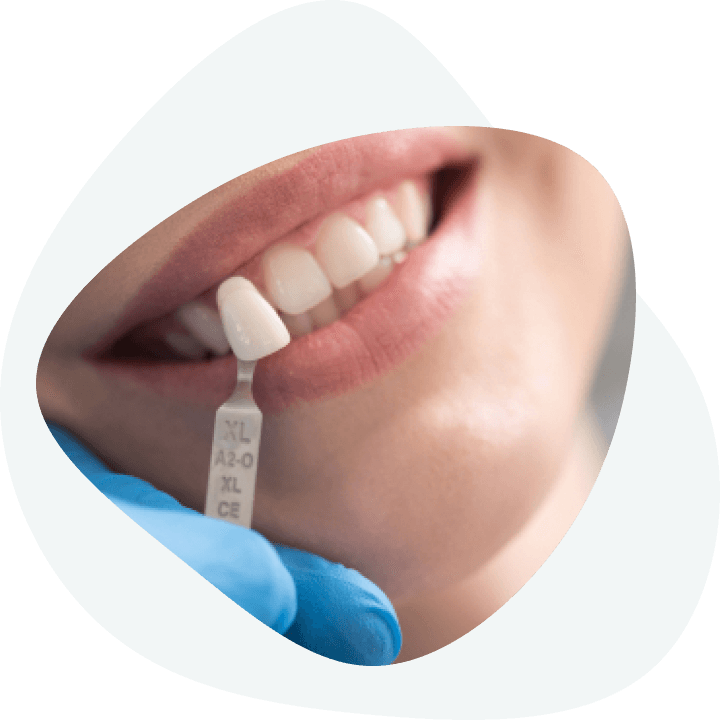 What are the advantages of metal-free ceramics - zirconium?
The advantages of zirconium ceramics include:
increased strength, resistance to mechanical loads;
resistance to corrosion;
free penetration of X-rays - they do not accumulate in zirconium during diagnostic studies;
firm adhesion to the natural tissues of the destroyed unit, which gives stability to the structure;
natural aesthetic appearance is one of the main advantages;
preparation of the unit in the process of preparation for prosthetics is done in a minimal amount, since the zirconium crown is very thin;
zirconium dioxide is fully compatible with human tissues and is highly hypoallergenic, does not cause allergic reactions - a very important advantage of the material;
does not have increased thermal conductivity, so the intake of hot and cold food does not cause discomfort;
zirconium constructions are the best choice for implant prosthetics.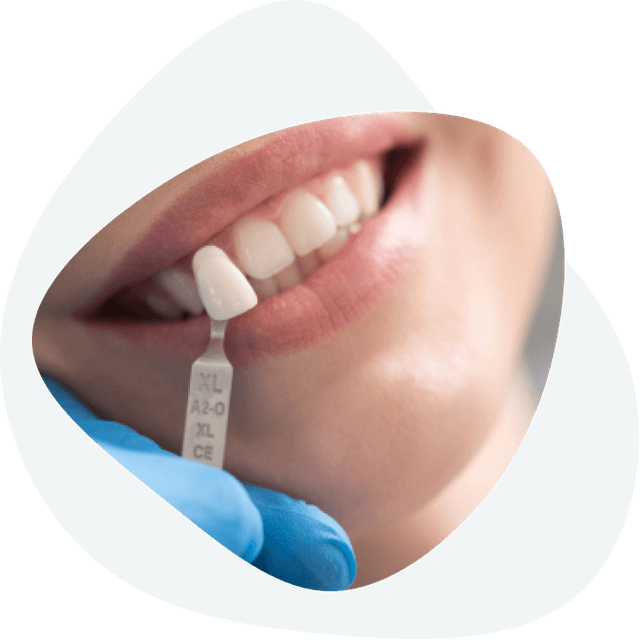 Take a look at some of our work that we are proud of
Bezmetalne Krunice A pinnacle of our dental services. See the best aesthetic transformations of our patients in the gallery "Before and After".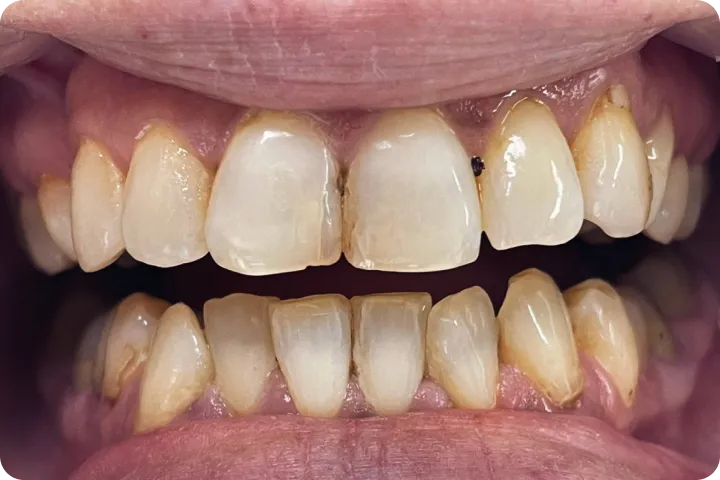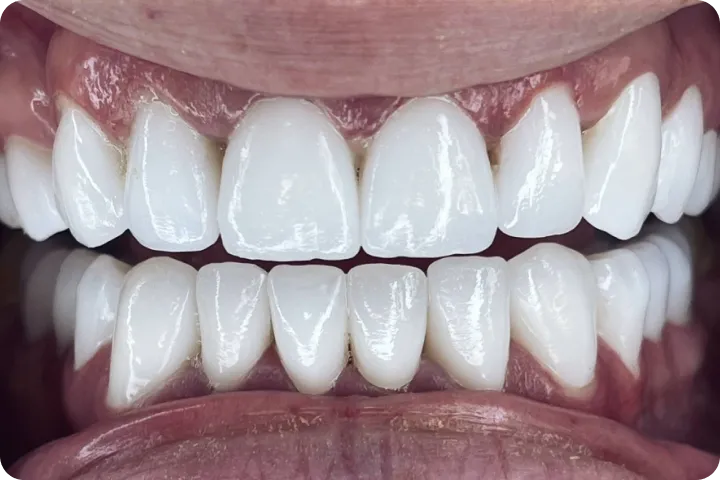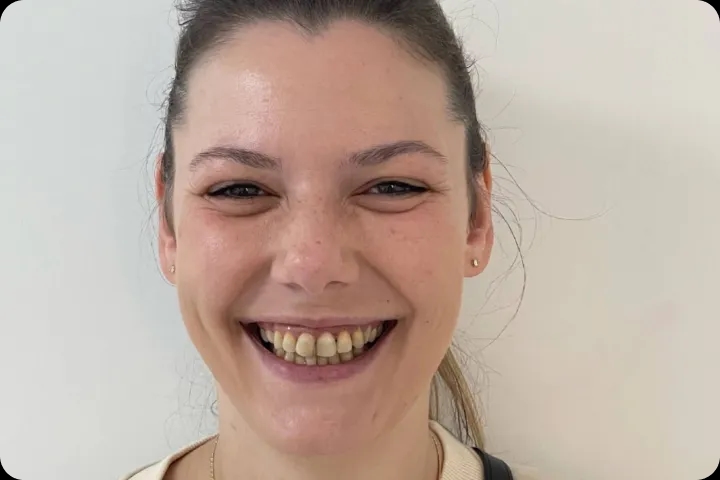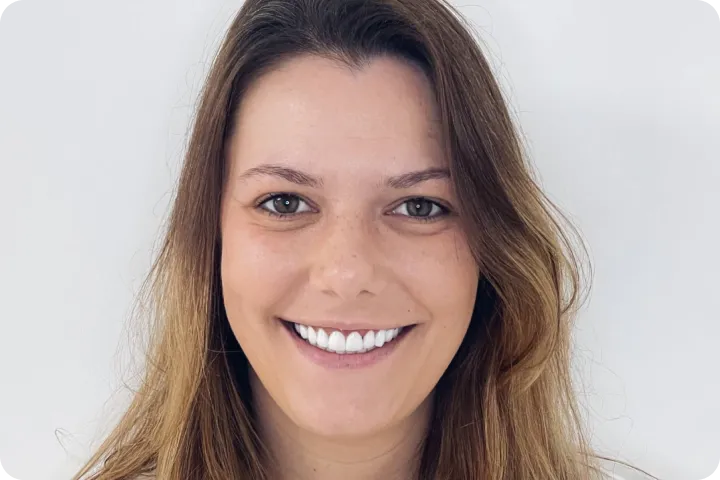 Previous patient
Next patient
What do our clients say?
Bezmetalne Krunice the service currently has a rating 5.0!
 

5

Review
Marija Rakić
Bezmetalne krunice i moja recenzija
Sve pohvale za tim koji radi za Marco Dental! Bili su ljubazni i pomogli su mi da dođemo do rešenja koje krunice su najbolje za mene. To su bezmetalne krunice. Toliko sam zadovoljna koliko su besprekorno urađene, i imam potrebu da to podelim sa svima! Još jednom-Sve pohvale za Vas Marko, i za vaš tim!
Stevan Novaković
Bezmetalne krunice i divni zaposleni u Marco Dental
Oduševljen sam svojim bezmetalnim krunicama iz Marco Dental-a. Izgledaju prirodno i sam osećaj mi je takav. Imao sam loše stanje samih zuba pre dolaska u Marco Dental, ali uz profesionalnost i kvalitet, ovi zubari su uradili odličan posao!
Bojana Petrovic
Bezbolno Savrseno
Bila sam toliko nervozna zbog postavljanja krunica, ali osoblje u Marco Dental Tourism-u je bilo toliko ljubazno i pristupačno od pocetka da sam odlučio da nastavim sa tim. Procedura je bila potpuno bezbolna i mogla sam ponovo da jedem i smejem se sa samopouzdanjem u roku od nekoliko dana. Bila je to transformacija koja mi je u potpunosti promenila život!
John P.
Kvalitetne Krunice
Odlucio sam da sredim zube dok sam bio na odmoru u poseti porodici, sestra mi je preporucila ekipu iz Marco Dental Tourism-a. Bio sam zaista impresioniran kvalitetom njihovog rada - moje nove cirkonijumske krune izgledaju neverovatno i osecaj je veoma prirodan. Sveukupno je bilo sjajno iskustvo i zaista sam zadovoljan rezultatima.
Salz9
Zubar broj 1
Zivim u Salzburgu poslednjih 15 godina i uglavnom sam tu resavao sve zubarske probleme. Za Marco Dental Tourism sam cuo preko Facebook-a i cene usluga su me navele da razmislim o njihovoj klinici. Iskreno receno, nisam bio najsigurniji zbog sumnje u kvalitet u odnosu na cene. Nakon konsultacije sa Markom, odlucio sam da im dam poverenje i nisam zazalio! Sanirali su mi karijes i instalirali dve krunice a da bukvalno nista nisam osetio. Sve preporuke!
Leave a review
The most frequently asked questions about metal-free crowns
When is it recommended to make a ceramic crown?
Metal-free crowns are widely used. It will help strengthen the teeth, restore their aesthetics and potential for chewing. They are especially needed in cases where several teeth have been destroyed and cannot be completely restored with other types of microprostheses.
Is it painful to make a metal-free ceramic crown?
Usually, patients are interested not only in how the crown is placed on the tooth, but also how painful it is.
The installation process itself is completely painless.
During the preparation, local anesthetics are used, which are chosen according to the characteristics of the patient's body. This enables us to make your stay in the dental chair as comfortable as possible.
Am I a candidate for using a metal-free dental cover?
A ceramic crown is the ideal solution for you if you have:
change in tooth enamel color;
destruction of the natural dental unit as a result of caries, trauma, enamel breakage;
congenital dental anomalies - shape, size, color;
large interdental spaces, including between front teeth (diastema);
intolerance to other dental materials.
Does removing dental crowns hurt?
The comfort of the procedure depends on the experience of the doctor and the method of removing the crown. If the reason is bad fixation, then the process will pass quickly and without the use of painkillers. If the cause is pain, then the doctor will apply local anesthesia before the procedure.
By the way, it is not recommended to remove a ceramic dental cover at home, as this requires special tools. In addition, independent attempts can lead to damage to adjacent teeth and soft tissues.
Become one of our many
satisfied patients!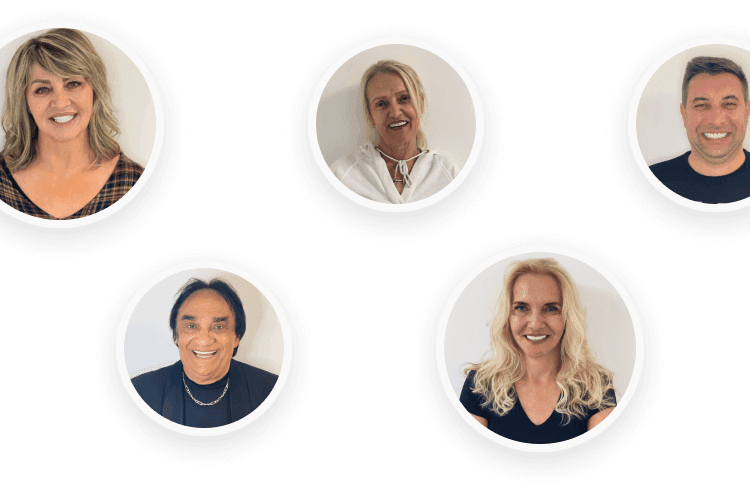 Contact us and Marko will contact you as soon as possible!
Contact Us
+381 61 6589540
+381 61 6589540