Metal-ceramic crowns
To restore the beauty of your smile, the health and strength of your teeth, as well as your self-confidence, the installation of metal-ceramic crowns will help you. Our clinic offers you metal covers for teeth that will have the same transparency, shade and shine as healthy teeth.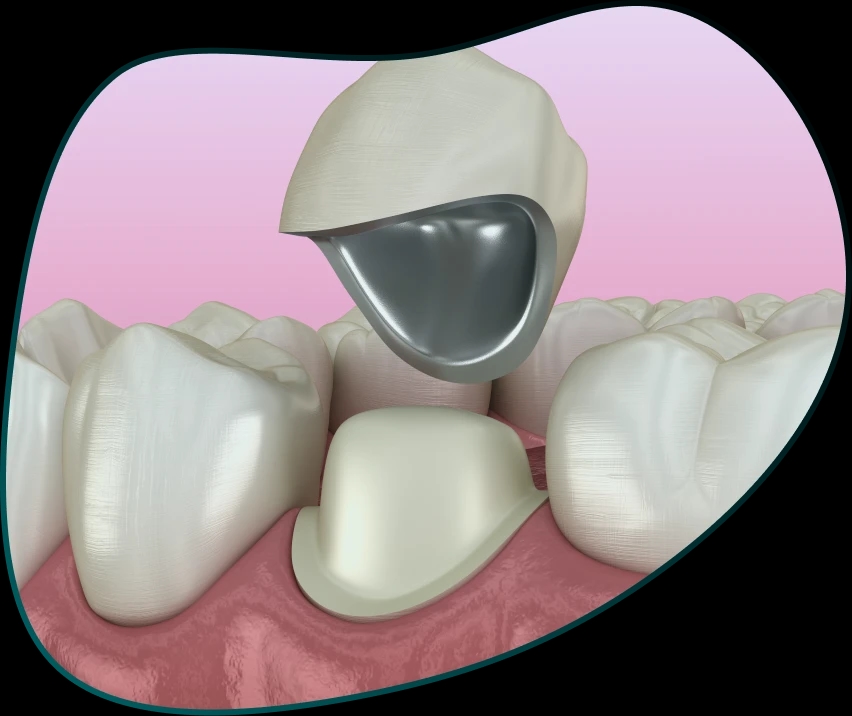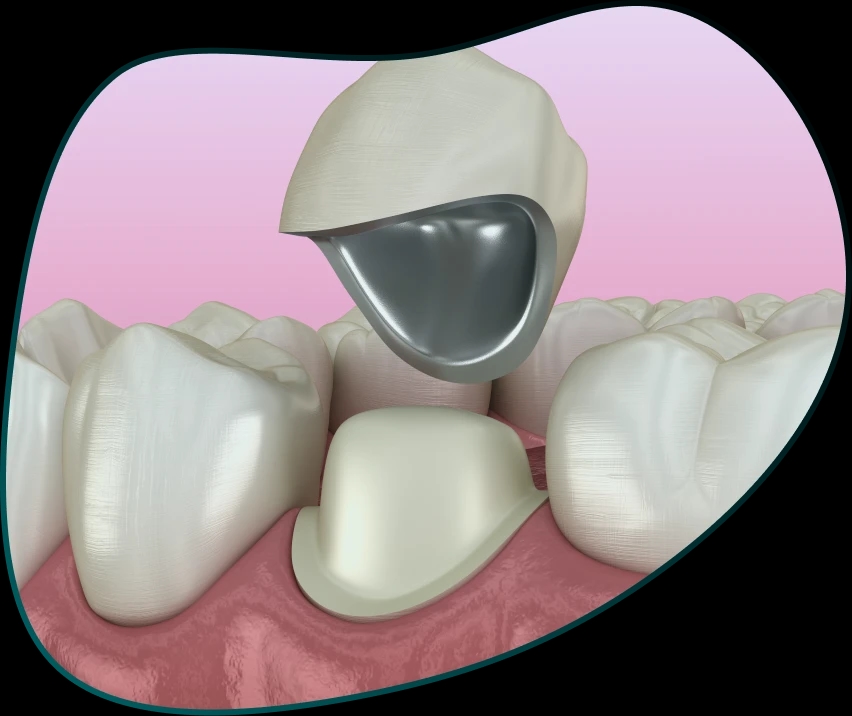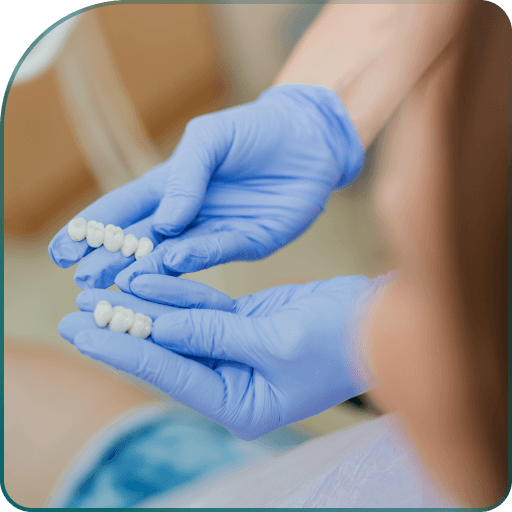 What is metal ceramics in dentistry?
Metal-ceramic is an artificial material consisting of a metal alloy and a ceramic coating. In dentistry, it is used to restore the functionality of teeth and their aesthetic appearance. The metal base repeats the shape of the teeth, a thin layer of ceramic is applied to it. A metal-ceramic crown covers the prepared and ground tooth. It is based on a metal frame, which has high strength and safety indicators. The upper layer is made of ceramic, the shade of which is coordinated with the color of the patient's natural tooth enamel.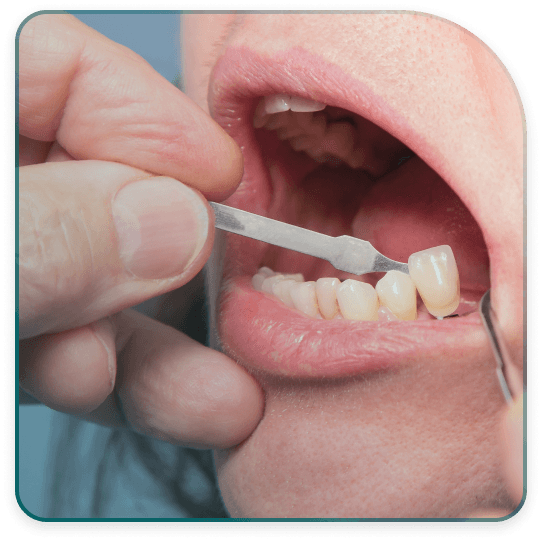 The process of installing metal-ceramic crowns
Installation begins with an X-ray, then the condition of the tooth canal and surrounding tissues is determined. If necessary, preparation for crowns is performed, which may include nerve removal, root canal treatment, placement of pins, tooth restoration, repairs, etc.

Next, the doctor grinds the tooth to the desired shape and takes an impression. The last stage is fixing the metal-ceramic crown with permanent cement.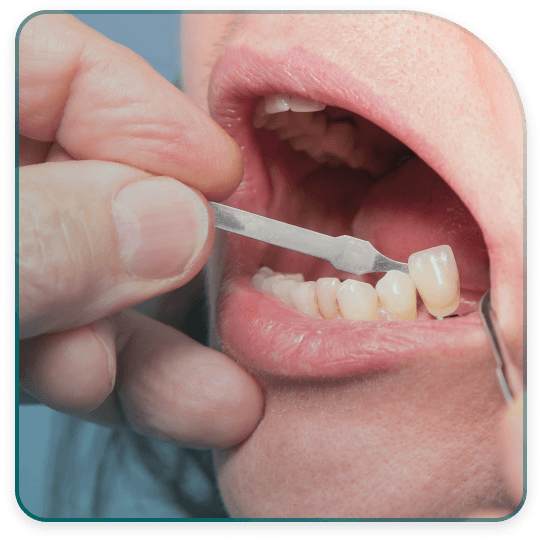 Maintenance of the metal cover for the teeth
Caring for metal-ceramic teeth is quite simple and does not require special efforts. However, it must be daily, regular and careful. In this case, the patient can be sure that metal-ceramic crowns will last a long time and will not cause difficulties. The basic rules for care are:

Brush your teeth at least twice a day, with vertical movements in the direction from the gums to the edge of the teeth. It is better to use a brush with soft fibers that will not hurt the gums. The most common toothpaste can be used, but in the case when most of the teeth in the mouth are replaced by crowns or a metal dental bridge, it is better to choose toothpastes that care for the gums (contain plant extracts or propolis). After each cleaning, clean the spaces between the teeth with dental floss. floss. After cleaning, the mouth must be thoroughly rinsed - first with water, and then with an antiseptic solution recommended by the dentist.
What do our clients say?
Metalokeramičke krunice the service currently has a rating 5.0!
Metalokeramicka krunica moja recenzija
Marco Dental je uradio odličan posao sa mojim metalokeramičkim krunicama. Vrlo su čvrste i izgledaju baš kao moji pravi zubi. Zaista sam i više nego zadovoljan svojim izborom!
Metalokeramicke krunice su super
Metalokeramičke krunice Marco Dental-a nadmašile su moja očekivanja. Čvrste su, dobro pristaju, a boja je savršena. Zaista sam zadovoljna rezultatom! Cena je i više nego pristupačna, a ceo Markov tim je bio na visini zadatka!
Sjajna Usluga i kvalitet keramičkih krunica
Usluga keramičkih krunica
Iskustvo Pacijenta Posle Krunica
Savršena ugradnja metalokeramičkih krunica u Marco Dentalu. Preporučujem ovu kliniku svima. Marco Dental mi je pružio fantastično iskustvo ugradnje metalokeramičkih krunica. Preporučio bih svima.
Ocena
Ugradnja metalokeramičkih krunica u Marco Dentalu bila je fantastična! Osećao sam se sigurno u rukama stručnjaka.
Leave a review
Metal-ceramic crowns - why with us?
What is the difference between a metal and non-metal crown?
Both materials are excellent for prosthetics, so the choice (metal crown or ceramic) is up to the client, depending on the goals and financial possibilities.

Generally, metal-free ceramics are suitable for front teeth, metal-ceramics are suitable for chewing teeth. All-ceramic crowns are suitable for people interested in maximum aesthetics. But the metal-ceramic crown is more affordable.
Is it painful to make a metal-ceramic crown?
As with other procedures in our clinic, in the case of the installation of metal-ceramic crowns, our expert dentists choose anesthesia and the appropriate plan and process for you. You can be sure that the whole experience will be painless and worry-free.
How do we make a metal-ceramic dental bridge?
Computer modeling is considered the most advanced and precise technique for making orthopedic structures. With a metal dental bridge, a metal frame is first made, and then a layer of ceramic is applied. If the bridge is fixed to the implants, a surgical step is necessary. A classic bridge requires grinding of adjacent teeth.
Become one of our many
satisfied patients!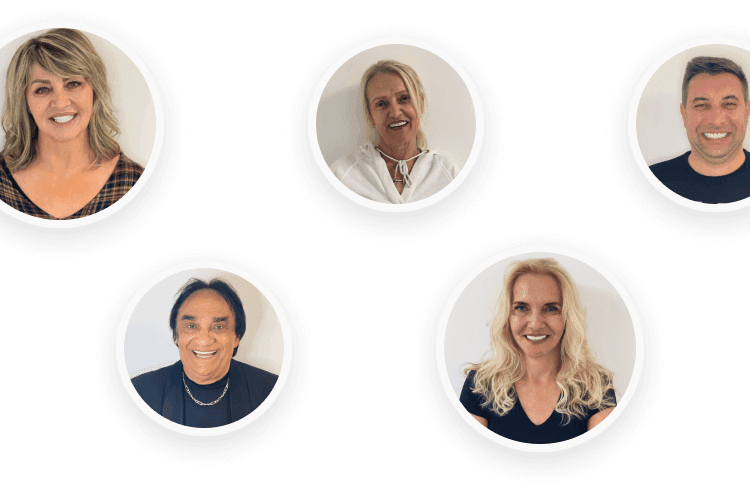 Contact us and Marko will contact you as soon as possible!
Contact Us
+381 61 6589540
+381 61 6589540